Princess of South Beach, a modern audio telenovela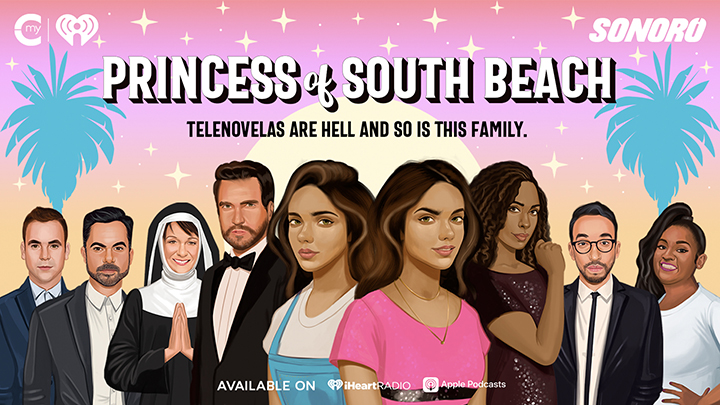 LISTEN NOW:
SONORO AND IHEARTMEDIA DEBUT "PRINCESS OF SOUTH BEACH," A BILINGUAL, MODERN-DAY AUDIO TELENOVELA
The New Dramedy Stars Rachel Zegler, Gina Torres, Danny Pino And More.
More details on the full Spanish and English-language cast and characters can be found at www.princessofsouthbeach.com
LOS ANGELES AND NEW YORK – OCTOBER 4, 2021 – Today, Sonoro and iHeartMedia debut the first three episodes of "Princess of South Beach," a 36-part modern audio telenovela that was written, directed and sound engineered in both English and Spanish, with two different star-studded casts. As a first-of-its-kind production, the series is available to bilingual and bicultural listeners in the U.S., as well as the millions of Spanish-speakers around the world. The show is the first in a slate co-produced by Sonoro and My Cultura, iHeartMedia's new podcast network dedicated to elevating Latinx voices and creators, while also sharing the Latinx experience with millions of listeners
"Princess of South Beach" tells the hilarious, dramatic story of twin sisters, María del Carmen and Gloria Calderón, who are separated at birth and raised in remarkably different ways – one as a naive orphan in a convent, the other as a privileged supermodel and socialite living in the lap of luxury on Miami Beach. The first three episodes debut today, Monday, October 4th, with new episodes dropping every Monday, Wednesday and Friday after.
"When we talk about representation in Hollywood, we often think about being represented at prestigious award shows like the Emmys," said Jasmin Romero, Head of Development at Sonoro. "That's certainly important, but we also deserve to see ourselves reflected in all genres, mediums and characters – whether it's our interpretation of Gossip Girl, Bridgerton or the Harry Potter series. Written and directed in both English and Spanish, Princess of South Beach is Sonoro's modern version of the telenovela genre, in our own words."
Combining the nostalgia of classic telenovelas with the short, cinematic nature of podcasts, "Princess of South Beach" celebrates the genre's much-loved tropes – like larger-than-life characters and sensational antics – and then flips them completely on their head. Unlike classic telenovelas, "Princess of South Beach" features nontraditional main characters who face storylines inspired by current socio-cultural issues, and unexpected plot twists. The English-language series is voiced by both well-known and new voices alike, including Rachel Zegler, Gina Torres, Raul Esparza, Danny Pino, Andy Bustillos, Ivonne Coll, and X Mayo.
Lincoln is the exclusive sponsor of "Princess of South Beach" and a proud sponsor of the My Cultura network. Listeners can follow the podcast here to be alerted when new episodes post. All shows are distributed by the iHeartPodcast Network.
EMBED EPISODES
EPISODE DESCRIPTIONS:
Season 1, Episode 1
Orphaned María del Carmen has only known life inside the convent where she was raised by Sister Claudia. Yearning to expand her horizons, María says goodbye to life at the convent and travels to South Beach Miami where, despite her rudimentary swimming skills, manages to secure a job as a Country Club lifeguard under the supervision of her stern boss Héctor. María is completing her first day on the job, when she bears witness to a terrible car crash as the vehicle runs off the road into the ocean. Running to the rescue María dives in to pull its driver from the car, only to be met with…her own face staring back at her. Shocked and with air running out, she resurfaces, failing at her rescue mission. At the shore, María is greeted by a chorus of paparazzi calling her Gloria and a man named Raúl claiming to be her boyfriend.
Season 1, Episode 2
Narrated by the deceased crash victim Gloria Calderón, in episode two we find María waking up the next day in a luxurious bedroom, opening her eyes to an overzealous Raúl, ecstatic to find his fiancee has finally awoken. Preparing to explain the confusion, María's confession is intercepted by Raúl's plans to take her to see her family. Torn between telling the truth and her childhood dream of having a family of her own, she buries her secret and accompanies Raúl to an enormous mansion. There María meets Gloria's mother Luisa, father Esteban and the family housekeeper Estrella. Raúl explains to the family her 'amnesia' has María acting unlike herself, as she shocks her family by being uncharacteristically friendly to Estrella. While her parents are thrilled to see their daughter alive and well, María's odd behaviour has Esteban concerned about creating a scandal in the press. Escorted to her bedroom for rest, Estrella brings María tea and wisely suggests she read her diary to jog her memory. Opening the pages written by a stranger, María finds explosive letters written to Gloria revealing that her family and life of wealth and renown has all been a lie.
Season 1, Episode 3
María is visited by the family doctor, who starts to question anomalies in her appearance. Fearful she's been found out, María spills the whole truth only to be brushed off for having an active imagination and a dire need for a chemical peel.Meanwhile, Esteban schmoozes with the retiring Mayor of South Beach, as he plots to build his influence and block candidate Alicia Mendes from gaining office, by running for Mayor himself. Later, while at lunch with Luisa, María learns more about her pampered childhood, and of her parents' difficulties with fertility.
---
About iHeartMedia
iHeartMedia, Inc. [Nasdaq: IHRT] is the leading audio media company in America, reaching over 250 million people each month. It is number one in both broadcast and digital streaming radio as well as podcasting and audio ad tech, and includes three business segments: The iHeartMedia Multiplatform Group; the iHeartMedia Digital Audio Group; and the Audio and Media Services Group. Visit iHeartMedia.com for more company information.
---
About Sonoro Global Media Corp
Sonoro is a global entertainment company focused on creating premium, audio-first content together with leading and emerging Latinx talent — in English, Spanish and Spanglish.
Sonoro is actively developing over 100 scripted and unscripted projects. The company has produced and launched five #1 hits, including Toxicomanía: El Experimento Mexicano (#1 in Mexico and #2 in the U.S., starring Luis Gerardo Méndez, Aida López and Rainn Wilson) and Crónicas Obscuras ( #1 in Mexico and Top 20 in the U.S.).
Founded in 2020 by a team formerly from the Walt Disney Company, the Los Angeles Times and Gimlet Media, Sonoro's 45-person team of creative, production and business executives is based in Los Angeles, New York and Mexico City.
To date, Sonoro has built Latin America's #1 podcast network with millions of monthly downloads from over 100 countries. Shows are available for free on Apple Podcasts, Spotify, and everywhere podcasts are heard. Visit www.sonoromedia.com for more information.