Barrio Brava, a documentary podcast about the reality of Tepito in Mexico City from the voice of its women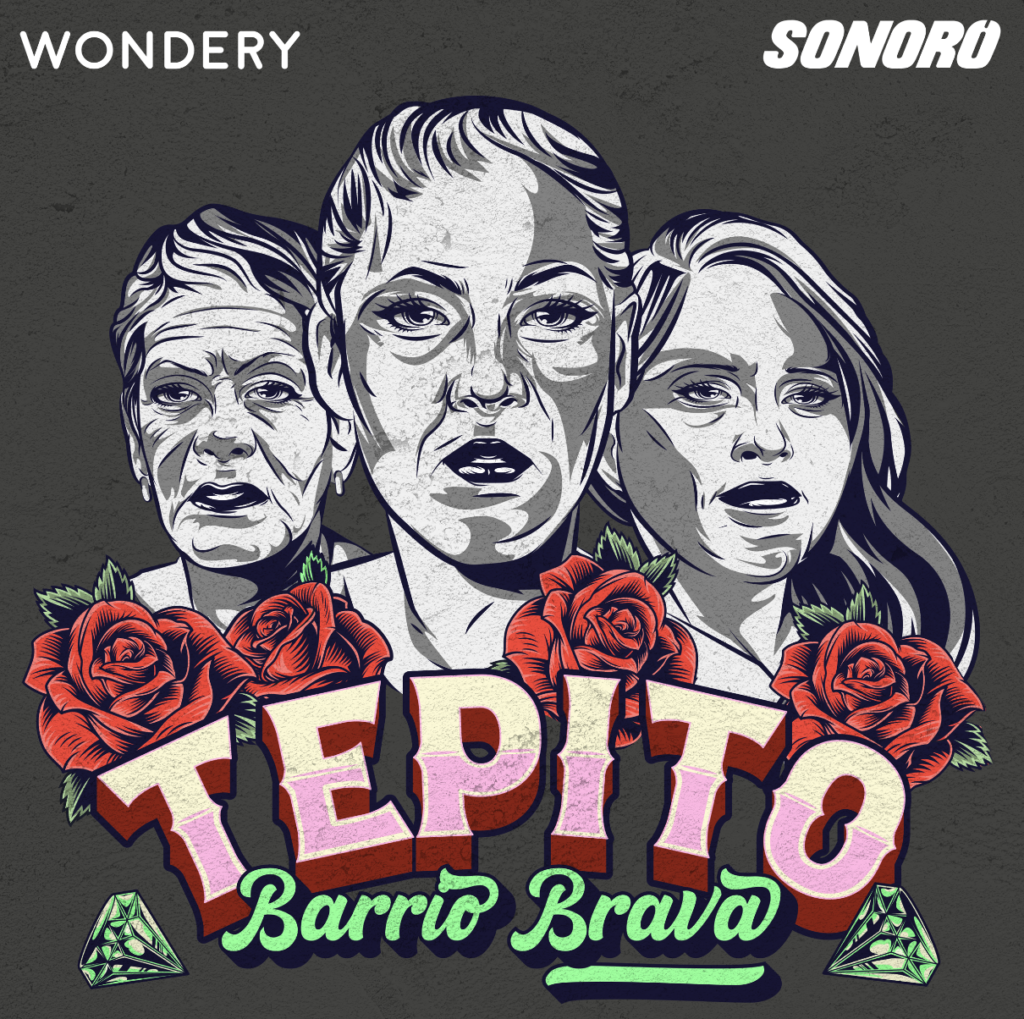 This podcast features the true stories of seven remarkable women who hail from this traditional neighborhood located in the heart of Mexico City
Tepito: Barrio Brava is a brand new original podcast from Wondery+ and Sonoro to portray it, in the voice of its women, as a place of great cultural and social diversity, reflecting a large part of a traditional and contemporary Mexico. Hosts Susana Meza and Pamela Moreno speak with seven tough women from Tepito who created a legacy for themselves and the problems they faced, finding a way to survive in an environment that tried to dismiss and tear them down.
Tepito is a neighborhood with a history that stretches back to pre-Hispanic times where it was already known as the commercial hub that prevails to this day and its inhabitants recognized for their bravery and resilience. Throughout history, it has been the cradle of boxing champions, birthplace of the Santa Muerte, as an endless tianguis (flea market), and as one of the most dangerous and violent neighborhoods in the capital. Through 8 episodes, this podcast tries to explore the captivating essence of a neighborhood that, for decades, has been a cultural reference for both locals, Mexicans in general and even foreigners, but from a rarely explored voice: their women.
Listeners will discover Tepito through a unique vantage point as told by the women who know it best.
Doña Queta. Guardian of Santa Muerte. Tells the story of how she became her guardian, and her "fight" with the preachers and the growth of devotion to Santa Muerte.
Yakiri. Activist and survivor of attempted femicide. She talks about her abduction, rape and the attempted femicide by the kidnappers. She also talks about her legal process, conviction after the death of one of her attackers.
Fabiola. Prostitute and tarot reader in the 70's in Tepito. She was one of the main promoters of respect and care for her profession.
Vicky. Stylist and soccer player of the iconic team of trans players, Las Gardenias. Her love life led her to be the mother of her partner's son, who ended up in jail.
La Chicanita. Daughter of wrestler Lluvia and granddaughter of Rey Chicano, she tells how she decided to make her way through sports, how this has kept her out of crime and drugs, and how she has become an example of struggle.
Lety. Mother of one of the victims at Heaven Bar. She talks about her story and close relationship with her son Jerzy, the disappearance of him at the Zona Rosa bar, the lack of support from the authorities and the stigmatization of both, Lety and Jerzy, because of Lety's husband's "tank" situation.
Mayra. Activist, police officer and promoter of Tepito. She talks about how she began her activism after being shot during one of the strikes at UNAM.
The cultural impact of Tepito has been highlighted by writers, painters and musicians from Mexico and abroad. Tepito: Barrio Brava opens a window to this place whose destiny is intrinsically linked to the fate of the city and of all chilangos.
"Tepito: Barrio Brava" was a demanding challenge in terms of ethical, social and research considerations, as well as in terms of production: almost 40 people interviewed and a team almost entirely made up of women and/or non-binary people.
The Tepito theme song was made to be performed by a rapper from the neighborhood known as Kaby Mihh. It is based on the traditional cumbia sonidera, and the lyrics were written collectively by members of the Sonoro team, with the aim of reflecting the problems experienced by the protagonists of the episodes. The music was based on the sampling of a demo made by the team, which was transformed with various elements and acoustic and electronic instruments until reaching the final sound.
Kaby Mihh is a rapper from the neighborhood of Tepito, her name comes from the nickname given to her by one of her friends, who considered her to be a "cabroncita", because since she was a child she always had a strong character and didn't let anyone intimidate her. In the end the nickname mutated to "Kaby", which she adopted as her stage name.

Listen to all 8 episodes of Tepito: Barrio Brava on August 9 on Amazon Music and Wondery+, and starting August 23rd episodes will be released weekly wherever you get your podcasts.