Wondery and Sonoro launch new podcast: Potato starring Tenoch Huerta and Stephanie Sigma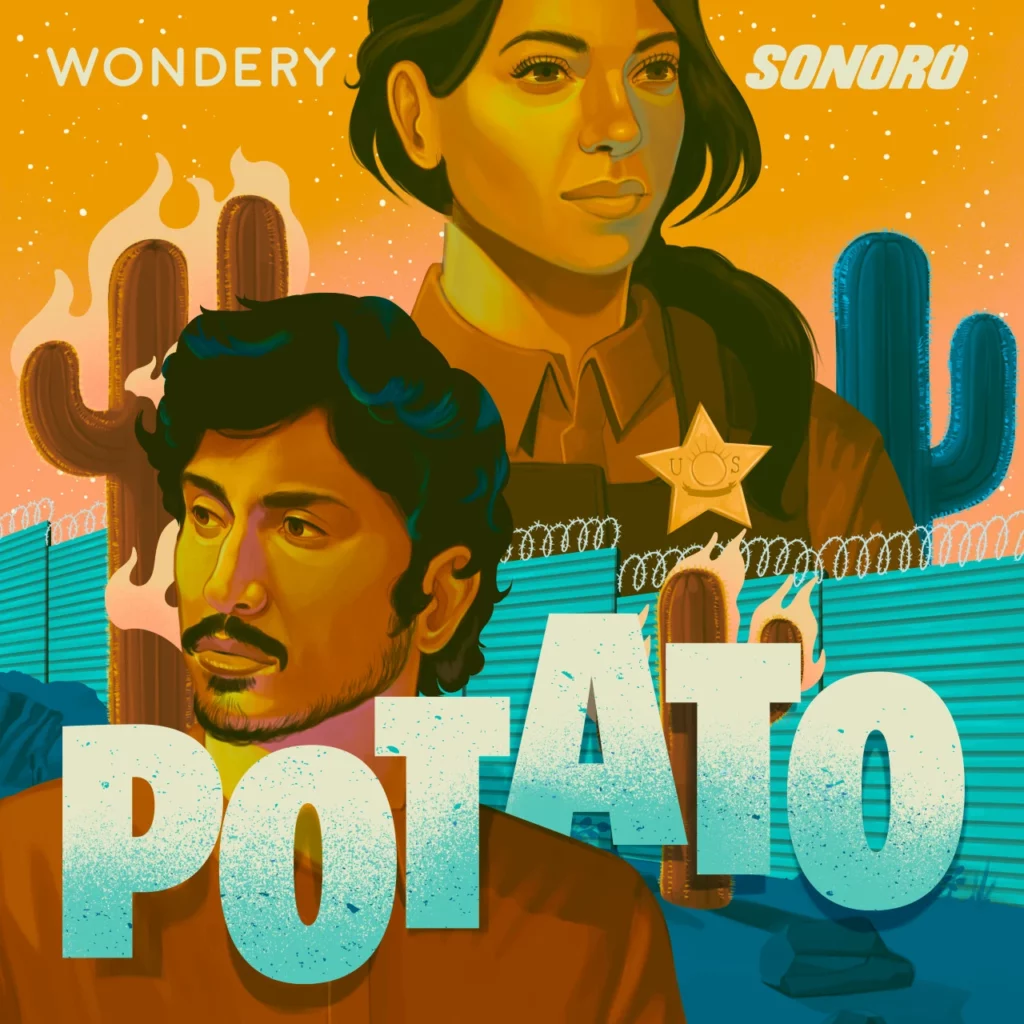 Listen to the podcast HERE
Listen to the entire full season of Potato from any device, wherever you are, on Amazon Music and Wondery+ starting November 1, and on any podcast service starting November 15
The podcast follows the story of Abigail "Abi" Smith, an ICE agent, on her journey to discover more about her identity as a Mexican-American woman.
"Potato" is produced by Sonoro and stars Tenoch Huerta and Stephanie Sigman and written by Samara Ibrahim
Wondery and Sonoro's Potato is a suspense and drama podcast where one of its main themes is loyalty. Abigail "Abi" Smith whose mother is Mexican and late father is white. As an ICE agent, Abi has always believed it was her duty to protect the southern US border, until her undocumented brother gets deported back to Mexico. In her journey to help her brother, Abi seems to discover more about herself and her late father, who'd served as a police officer. These episodes will unpack many secrets Abi's mother kept from her about her late father, which will help Abi discover more about her identity as a Mexican American woman, and will help her guide her moral compass.
This podcast explores the confrontation between the naivety of an American woman and the dark reality of a lawless frontier in a gripping story about family, loyalty and what homeland means.
Listen to the entire full season of Potato from any device, wherever you are, on Amazon Music and Wondery+ starting November 1 and on any streaming platform starting November 15.
---
About Wondery
Wondery an Amazon company, is a premium podcast studio known for character-driven, binge-worthy stories including Dr. Death, The Shrink Next Door, Even the Rich and Business Wars, and distribution of hit partner shows SmartLess, My Favorite Murder, Morbid and How I Built This. Wondery was behind eight of the "Top 25 New Shows of 2021", according to Podtrac, including #1 (The Apology Line) and #2 (Suspect). Over 45 shows from Wondery have hit #1 on Apple Podcasts including Scamfluencers and Twin Flames. Many Wondery podcasts have been adapted for scripted television or streaming series, including Dr. Death and Joe vs Carole on Peacock and The Shrink Next Door and WeCrashed on Apple TV+. Wondery has gained critical acclaim and commercial success for its immersive approach to sonic, emotionally driven storytelling. The Wondery app offers a unique, personalized podcast listening experience, including access to its premium ad-free offering Wondery+. With Wondery+, fans experience early access, exclusive episodes, and ad-free listening. https://wondery.com/
About Sonoro
Sonoro is a global entertainment company focused on creating premium, culturally relevant content that starts in audio and comes alive in TV, film and beyond. Sonoro collaborates with leading and emerging Latinx storytellers – writers, producers, and directors – from over a dozen countries to develop original franchises in English, Spanish, and Spanglish.
The company is pioneering new podcast formats and has launched multiple #1 hits, including Toxicomanía: El Experimento Mexicano (being adapted as a film for Paramount+), Tejana starring and executive produced by Stephanie Beatriz (2022 Best Fiction Ambie Winner, being developed for television), Crónicas Obscuras (#1 horror franchise), Princess of South Beach (#1 show in iHeartRadio's MyCultura Network) and Ídolo: The Ballad of Chalino Sánchez (#1 in Mexico and Top 10 in US).
For media inquiries, please contact:
Amazon Music | Jennifer Morales – jjenmor@amazon.com
Addvox:
Ernesto Olmos – eolmos@addvox.com.mx
Gabriela López – glopez@addvox.com.mx
Alejandra Caballero – acaballero@addvox.com.mx