Sonoro and Tenderfoot TV Debut The New Podcast Series "Ciudad Mágica"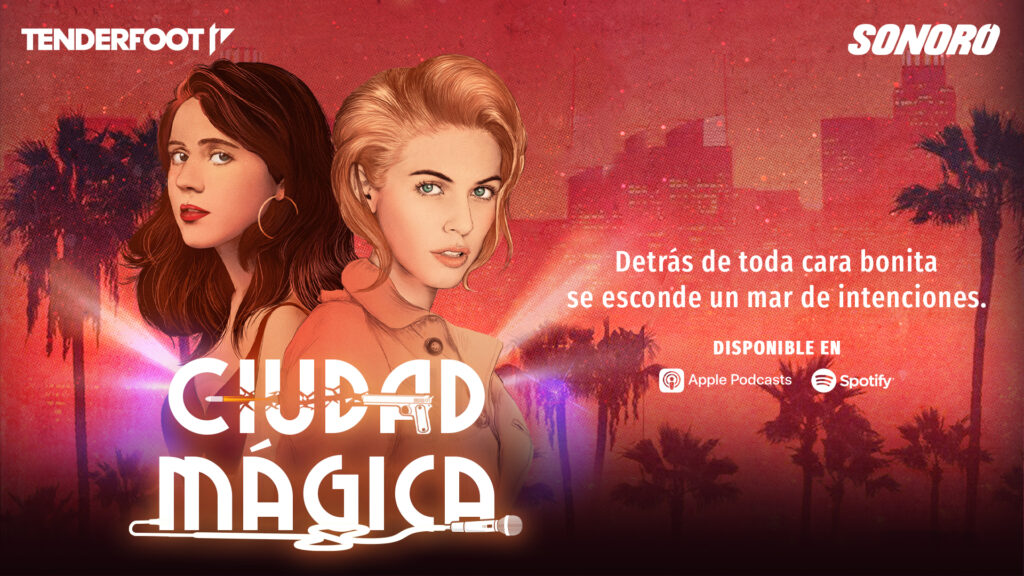 This is Sonoro´s & Tenderfoot TV First Fiction Crime Drama Debut featuring Actress Stephanie Cayo and Singer Tessa Ía
Sonoro and Tenderfoot TV announce their first co-production by launching Ciudad Mágica, a new crime fiction drama series in Spanish. This alliance will allow both companies to expand to other markets including the Spanish-speaking community around the world. Ciudad Mágica is a fiction and crime drama set in Miami, the Magic City. The two leading characters were voiced by the Peruvian actress Stephanie Cayo (Club de Cuervos, Hasta Que Nos Volvamos a Encontrar on Netflix) and the Mexican singer and actress Tessa Ía (Narcos: Mexico, Desenfrenadas on Netflix).
"Ciudad Mágica is a great milestone because it's our first non-English podcast for Tenderfoot TV. We're expanding the way we deliver content internationally and partnering with Sonoro allows us to elevate diverse talent while breaking through language barriers to reach new markets."
Donald Albright, President & Co-Founder Tenderfoot TV
The heroine of this story is Carolina Echegui (Stephanie Cayo), a popular local news reporter who is persistent about demonstrating her journalistic skills and initiates a public investigation into the disappearance of Vicky Aranda (Tessa Ía). Aranda is a well-known influencer and reggaeton singer who has been missing for days. Her fans are worried sick and are hoping to make her disappearance go viral in order to help find her. Each episode dive into new twists of the investigation that Carolina uncovers, building theories about the mystery of Vicky and the dark world that surrounds the artist.
This is the first co-production between chart-topping Sonoro, and Tenderfoot TV, a U.S. leader in the podcasting industry with more than 700 million global downloads. Tenderfoot is the studio behind the true crime hit podcast "Up and Vanished," as well as 2019's AP Podcast of the Year, "To Live and Die in LA," the latter of which had two seasons that focused on women who disappeared pursuing their dreams in entertainment. A premise similar to the fictionalized Ciudad Mágica.
Ciudad Mágica is another project by Sonoro that provides its Latin audience with original stories that represent them. Where everyday situations such as immigration, human rights, LGBTQ+ relationships, and the gender gap of women in their work environment is at the forefront.
"At Sonoro, we are producing award-winning global content, in fiction and nonfiction. Our partnership with Tenderfoot TV extends the reach of our nonfiction projects while also experimenting with new ways to tell stories anchored in true events. Our first series together, Ciudad Mágica, is the perfect blend of Tenderfoot's legacy of producing blockbuster true crime hits and Sonoro's prowess in scripted content."
Camila Victoriano, Co-Founder of Sonoro
This six-episode podcast series is available to binge on all podcast platforms beginning August 8, 2022.
For media inquiries write an email to prensa@sonoromedia.com
About Tenderfoot TV
Tenderfoot TV was founded by Atlanta director and independent filmmaker, Payne Lindsey, and music industry veteran, Donald Albright, Tenderfoot TV launched in 2016 with the release of the award-winning true-crime podcast, "Up and Vanished." The viral sensation became an international news story after influencing two arrests in a decade-old cold case, receiving over 350 million downloads in the process. Tenderfoot has since created additional breakthrough podcasts including the critically acclaimed "Atlanta Monster," and "Radio Rental," as well as the true crime hits "Monster: DC Sniper," and 2019's AP Podcast of the year, "To Live and Die in LA." With over 700 million downloads to date, Tenderfoot continues to develop fiction and nonfiction projects as podcasts, and has expanded into TV and film, airing the first season of "Up and Vanished" (TV series) on the Oxygen network in 2020. Having collaborated with the likes of HBO, Netflix, iHeart, Audible, Cadence13/Entercom, and Issa Rae's label Raedio, Tenderfoot aims to be the premiere creative hub for multi-platform storytelling. Visit tenderfoot.tv for more company information.
About Sonoro
Sonoro is a global entertainment company focused on creating premium, culturally relevant content that starts in audio and comes alive in TV, film and beyond. Sonoro collaborates with leading and emerging Latinx storytellers – writers, producers, and directors – from over a dozen countries to develop original franchises in English, Spanish, and Spanglish. The company is pioneering new podcast formats and has launched multiple #1 hits, including Toxicomanía: El Experimento Mexicano (being adapted as a film for Paramount+), Tejana starring and executive produced by Stephanie Beatriz (2022 Best Fiction Ambie Winner, being developed for television), Crónicas Obscuras (#1 horror franchise), Princess of South Beach (#1 show in iHeartRadio's MyCultura Network) and Ídolo: The Ballad of Chalino Sánchez (#1 in Mexico and Top 10 in US).